Pastor Kenneth Amuh is a DMI, ECC Regional Presiding Pastor & Superintendent with a French Ministry in Chicago. Below are some of his pictures he has recently sent to DMI headquarters for publication... There are several more pictures but space is limited to show them all. We have here also some pictures of his last trip to Africa. View the pics and information and Praise God for the diversity in Dayspring, The Evangelical Christian Church.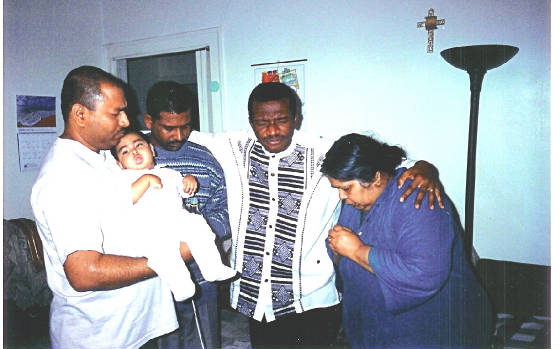 Pr. Ken prayingwith a pakistanese Family (Mr. & Mrs ANIL) in Chicago. Their Baby girl was sick since birth. She was paralysed, she does not eat the normal way(exept thru a special device as on picture).Like the elder brother who died in similar conditions a month earlier at the hospital, she was also admitted at the hospital, dying slowly according to the doctors.

But when Pr. Ken prayed fo her, she was healed and discharged the next day from the hospital. The Anil Family was so happy, and the invited me to come and pray with them at home. After the Prayer the father got a new job too. This is a double miracle. To God be the Glory.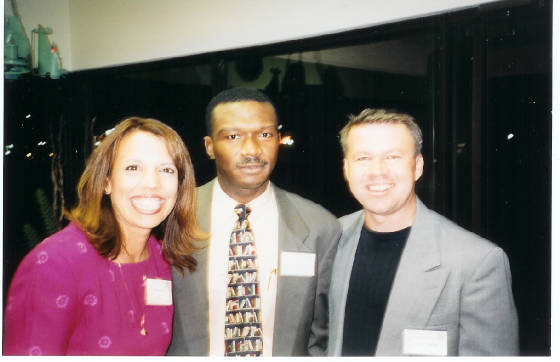 Pr. Ken atteending a World Faith Convention in Texas/El Paso, organised by Rev Tom Brow and his wife Sonia, both on picture wih Pastor Ken.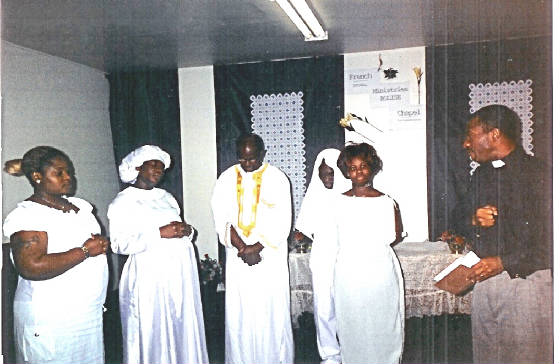 Pr. Ken in the process of baptizing some people who gave their lives to Christ (including moslems and people from different backgrounds).
Deliverance Program in Benin/West-Africa, EBSE Church/ 1000 membership.

Benin is a very strong Occultic Continental Headquarters, where many people are held captives in many bondages.

On this picture,a woman is being delivered from the Curse of Financial problems.

Cotonou/Benin/West-Africa, Jan 2005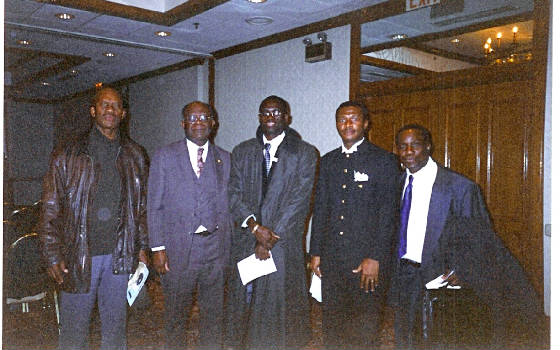 A picture with the Ivorian Ambassador (2nd from Left), and some Political Party Executives residing in Chicago
Prayer for Blessings Abidjan/Cote D'Ivoire, Jan. 2005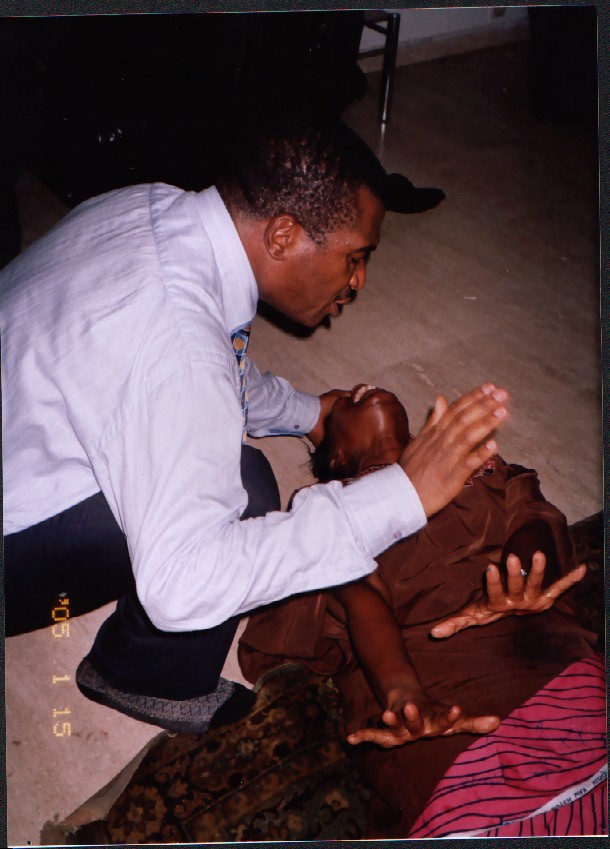 A sister who was screaming & shouting, has to be attended to by Pr. Ken after closing the meeting. And that deliverance section took 5 hours (1:30pm-6:30pm).